In the most basic description, a LIMS (Laboratory Information Management System) is a software program that is used to track work in the laboratory and capture results of testing. The features provided by a LIMS are dependent upon the provider; however, there are a few features that are common among typical LIMS solutions. We highlight a few of these here.
Order/Sample/Test Management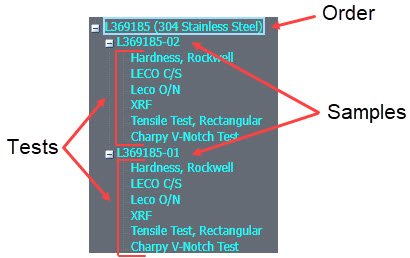 One of the most important features of a LIMS is the ability to track
work throughout the laboratory and maintain that traceability in the future. Each provider handles this slightly
differently, but typically there is a hierarchy to identify an Order, the Samples on that Order, and the tests assigned to those Samples.
Wavefront Software provides multiple paths for creating and tracking these objects, including:
Automatic creation through interface with ERP systems

Creation through execution of pre-defined templates

Automatic creation based on Specification requirements

Manual creation
Entering Test Results
Another important feature of any LIMS is automatically populating test data from an instrument directly into the system. Data entry is commonly done manually, but if the system has the capability, instrument interfacing is a valuable tool to reduce typos and minimize manual data entry tasks.
Completing Testing
Once testing is complete, the data on a sample/order is compiled into a report or exported file for use outside of the system. The capabilities/features of the system will determine what can be done with the data. Wavefront software can create reports or export files that are extremely flexible to meet the laboratory's and their customer's requirements.
Every laboratory has different requirements for their processes and workflows, and each system provider addresses those requirements differently. Some common functions achieved in a LIMS are:
Specification management & application to tests

Instrument and Calibration tracking

Laboratory Status Boards and Dashboards for tracking workflow and metrics

SPC Calculations and Control Charts

Barcoding

Test scheduling
Reach out to Wavefront Software via the "Schedule a Demo" link above to learn more about the above features and many more that can help your laboratory achieve its goals.
Subscribe to our Free Content
Learning about LIMS is a monthly article series where Wavefront shares questions that have come up throughout our interactions with a range of individuals and customers. We do our best to provide information about each topic to help people learn more about LIMS.
Sign up here to be added to our mailing list and receive these articles directly in your inbox.
Keeping track of instrument calibrations in LIMS can be a powerful tool. You can streamline the process of tracking calibrations to always be sure that there are no surprise expired instruments just when you need them, but also integrating with tests to quickly see what instrument and calibration was used.