Understanding the benefits of a LIMS requires understanding your laboratory's needs. The two most common reasons laboratories look into incorporating a LIMS into their laboratory are:
They do not have an existing LIMS and are finding it difficult to keep up with demands with their makeshift solution.

Their existing LIMS has reached the limits of its capacity and can no longer efficiently manage the needs of the laboratory.
Implementing a formal LIMS (laboratory information management system) can help a laboratory improve its processing to reduce errors and keep up with Production and their customer's requirements. Working with a LIMS company, such as Wavefront Software, provides continuous support to keep your system at the latest version. It also provides the flexibility to address new and evolving requirements.
What are the Top 5 Benefits of a LIMS?
1) Integration with Other Systems
A feature common among LIMS is their ability to interact with other programs utilized by the laboratory, such as instruments, ERP, and CRM systems.
Instrument interfacing allows automatic import of data, thus eliminating the need to manually enter results. No manual data entry means no more typos from transcribing between systems.
ERP or CRM interfacing allows automatic creation of jobs/samples/tests along with pertinent information about those objects into LIMS. This reduces manual effort and improves efficiency.
2) Automatic Specification Conformance Review
Depending on the industry, customer specifications can become very complicated and highly layered. Therefore, reviewing each test against the requirements of multiple specifications can be extremely manual and time consuming. A LIMS compares test results to all of the applicable specifications as the testing is completed.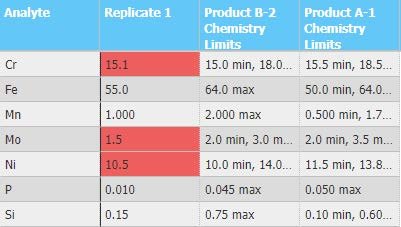 This process lets the user knows when a test fails immediately by color coding the analytes. This also removes the error of the manual review.
Some LIMS providers, such as Wavefront Software, provides specification management options directly in LIMS, allowing the laboratory to maintain all specifications in one location.
3) Support
If a laboratory is looking to replace an existing LIMS it is often for lack of support for their current system. This can be because their existing LIMS has fallen out of support or the person who developed their homegrown system is no longer available. Maintaining an out-of-support system makes it difficult to address issues or create new features to manage expanding customer requirements. One of the most significant benefits of a LIMS is having a reliable support system for these and other issues.
In addition to support for issues or changes, included in Wavefront's annual support agreement are regular upgrades of their LIMS, keeping their customers up to date on improvements and new features.
4) Accreditations
Laboratory accreditations, such as ISO17025, NADCAP, and AS9100, are crucial to any sort of facility, and their requirements are always changing. It is important for a LIMS to not only support your laboratory's current accreditation requirements, but also allow you to make adjustments to meet changing accreditation requirements.
Different LIMS providers will support laboratory's accreditation in different ways. Some of the ways Wavefront LIMS can support your accreditation requirements are:
Tracking the Instruments and Calibrations used to complete each test.
Ability to attach documentation throughout the system, such as on orders/samples/tests for ease of reference.
Assign password-protected signatures at key review steps to ensure approvals are done only by those qualified.
Configure security features to help the laboratory prevent users from inadvertently making changes where they shouldn't.
Wavefront LIMS is highly configurable by the user and in a user-friendly interface, so most changes can be made without Wavefront's help or the need for coding.
5) Work Prioritization
There are several options for tracking and communicating prioritization to those completing the work. Two options are Search Queries and Lab Status Boards.
Wavefront LIMS allows users to create Search Queries utilizing test/sample/order statuses and user-populated field information. The result of these queries can then be sent to a distribution list automatically.
Laboratory Status Boards provide a list of work, displayed on a TV screen within the laboratory. Updates made are automatically reflected on the Lab Status Board.
A LIMS solution is a big decision to make for any laboratory, but it can also be one of the best decisions. Reach out to Wavefront LIMS by submitting a request via the "Schedule a Demo" button to find out how Wavefront LIMS can help your laboratory.
Subscribe to our Free Content
Learning about LIMS is a monthly article series where Wavefront shares questions that have come up throughout our interactions with a range of individuals and customers. We do our best to provide information about each topic to help people learn more about LIMS.
Sign up here to be added to our mailing list and receive these articles directly in your inbox.
The Wavefront LIMS Customer Portal can be a powerful tool for your laboratory to improve customer service and increase customer awareness. When evaluating LIMS providers, it's important to understand if the portal would be beneficial for your laboratory and how you could maximize its effectiveness. Take a look at this article to find out more.